April 7th – 16th, 2016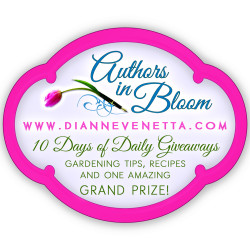 Hello and thank you for stopping by my 'home' on the Authors in Bloom Blog Hop. Make sure to read to the bottom for prize info!
My name is Stacey, and I love gardening and canning my own vegetables. My tip may be a bit obvious, but I'm still going to share it for two reasons. 1. It *may* be new to someone out there and 2. even if it's not new, I want you to know even for avid gardeners, it's okay if you didn't grow it yourself!
Do you maybe not have room to plant that garden you'd love to so you can enjoy the fresh taste and benefits of homegrown veggies? Or do you not have the time a garden requires? Maybe, you have the room, and the time, but for some reason things didn't grow as you'd hoped/planned?
That happened to me last year. None of my pickle plants grew well enough to produce, and it was too late to replant. Because dill pickles are a favorite of my hubby and youngest son, I went to the local vegetable farm and ordered 45lbs of canning pickles so we didn't have to forego them for a whole year. When I received a bag of pre-washed and pre-scrubbed pickles, and was able to can them all in 1 day instead of 4 or 5 different days of small batches, any guilt I had for not growing them myself completely disappeared. 🙂
So my TIP is…if you find you are not able to garden for whatever reason, visit your local farmers markets or find a local vegetable farm so you can still enjoy fresh from the garden while supporting a local business!
It's not yet quite planting season here in Wisconsin, so here are a couple spring books you can enjoy before the work in the garden begins. If you're in an area where you've already planted, relax between weedings! 
Tessa Sullivan figures she can handle a no-strings-attached fling with the handsome stranger she meets at her sister's Spring wedding. After all, she doesn't believe in love. Or so she tells herself.
Trevor Jackson's painful past leaves him adamant he'll never open his heart again. But a week of uncomplicated fun with the beautiful bridesmaid? Now that's an arrangement he can work with.
All's well that ends well—a mutually enjoyable relationship that will end as simply as it started—until someone breaks the rules and falls in love.
Sometimes love happens when you least expect it…
Lora Howell is stunned to find out her husband cheated on her before his death, but drinking too much and picking up a one night stand to get back at him might not have been the smartest thing to do. Facing the stupidity of her actions, the thirty-two year old mother of two recognizes the emptiness in her heart can't be filled by sex—especially not with the town playboy whose reputation for loving-and-leaving is legendary.
Charismatic SWAT Officer Shane Parker was perfectly happy with his carefree bachelor ways until that one night with the beautiful widow. Now he can't get the woman out of his head, and the more time he spends with Lora and her young boys, the higher the risk to his heart. Convincing her he's ready to settle down becomes the most important negotiation of his life—until one last unexpected bombshell threatens everything.
My Blog Stop prize is a set of 4 Romancing Wisconsin Wine Charms. You can enter by liking my Stacey Joy Netzel Author page on FB
For the details of the Authors in Bloom Blog Hop Grand Prize, click here: http://diannevenetta.com/events/
Best of luck with all the prizes, and to enter for the Grand Prize, make sure to visit all the authors on the blog hop!
~ Stacey